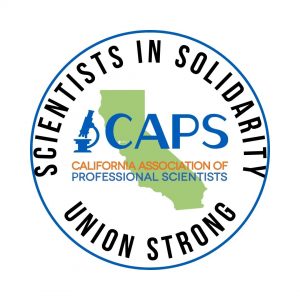 Highlights in this update:
The CAPS Bargaining Team has Filed an Impasse Determination
Stay Involved! Join actions in support of CAPS!
The CAPS Bargaining Team Filed a Request for an Impasse Determination. On Wednesday, September 6 the CAPS Bargaining Team (CAPS Team) unanimously voted to file unilaterally for an impasse determination from the Public Employees Relations Board (PERB). CAPS' legal counsel submitted the filing to PERB on September 19, 2023. IMPORTANT: CAPS and the State will not be at formal impasse unless and until PERB formally decides on the matter. PERB has 5 business days to provide a determination.
Prior to our filing, the CAPS Team informed the State of CAPS' intent to request an impasse determination and invited the State to join us in a mutual filing. The State refused to do so, yet still made no additional efforts to reach a tentative agreement. 
The CAPS Team believes we are at impasse with the State and no more progress toward a tentative agreement can be reached without the help of a meditator. 
Should PERB agree with the CAPS Team and determine we're at an impasse, the Team will select a mediator from a list provided by PERB to assist in continued discussions with the State. Should PERB disagree, your CAPS Team will return to the table and continue discussions with the State.
Details about what impasse means and procedures that follow are available here: Bargaining Procedures.
At this time, the Evergreen Clause remains in place for CAPS' 2018-2020 MOU. Should PERB determine impasse exists, your CAPS Team has the ability to call for a strike based on the 93.51% approval vote of the Strike Authorization from the membership on September 1, 2023, but those circumstances have not currently been met. 
Stay Involved! Keep up the pressure by continuing to attend your Tuesday Solidarity Breaks! Being connected to your colleagues while showing the Administration that you stand behind your Bargaining Team is more important now than ever. Learn more about solidarity breaks on the Union Action page on the CAPS Website here. More actions are being planned, too, so stay tuned!